US Macro: Massive growth upgrades, and a possible earlier Fed lift-off – Following the Democrat Senate election wins earlier this month, and president-elect Biden's $1.9trn fiscal support package proposal, we have significantly upgraded our US GDP forecasts. We now expect growth of 5.8% in 2021 (previous: 3.2%; consensus: 4.0%), and 4.1% in 2022 (consensus: 3.3%). This is driven by three main factors: 1) significantly more fiscal support, which will add 1.9pp to growth in 2021, and 0.6pp to growth in 2022; 2) lighter lockdown restrictions in Q4 and Q1 than we had in our base case, despite the resurgent pandemic; 3) higher spending on infrastructure and renewable energy, as Biden had promised in his election campaign. The result will be a much more rapid closure of the output gap; we now expect this to take place in Q1 2022, whereas previously we had forecast a persistent negative output gap. This will see the economy returning to its pre-covid levels by Q2 this year, whereas previously we expected this to happen in Q4.
Output gap will close much sooner than previously expected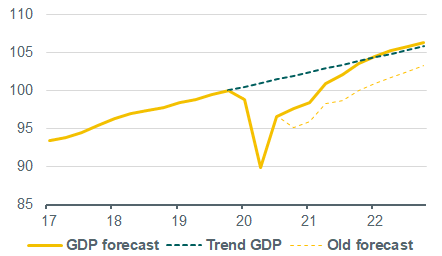 Source: ABN AMRO Group Economics
While there is uncertainty over the final shape of the Biden's fiscal package, given his preference to pass a package with the support of Republicans, Democrats can ultimately pass most of the spending provisions in the Senate by themselves through budget reconciliation (something that can be used twice this year). As such, the tolerance of Democrats to water down spending is probably quite limited. As with previous rounds of fiscal support, this new package mostly provides relief to businesses and households, tiding them over to the end of the pandemic. It also provides funding to state and local governments, whose budgets have been stretched by collapses in tax revenues and higher spending needs. While this package is tilted more towards relief than it is stimulus, Biden has promised to unveil proposals on infrastructure and renewable energy investments next month (we have already made assumptions around this in our new forecasts).
Somewhat higher inflation, and a possible Fed hike in late 2023 – The more rapid closure of the output gap will put some upward pressure on inflation, and therefore our expectations for Fed policy. On an annual basis, we expect inflation to peak at around 3% in the middle of the year, mostly on base effects and higher oil prices. In the second half of the year, monthly inflation is expected to be somewhat elevated, with the housing component likely exhibiting some catchup growth from the pandemic period (during which rents essentially froze). This will likely give the FOMC the confidence to taper asset purchases in 2022 and to subsequently bring them to an end. On rates, it is also possible that a period of higher inflation might spur some of the more hawkish FOMC members to favour a hike; the Fed's forward guidance is that rates would remain at current levels at least until the Fed is 'on track' to exceed its 2% inflation target for a time. However, we do not expect elevated inflation to last, given extremely well anchored expectations. Further, the Fed has made a clear commitment via its new policy framework to make up for previous shortfalls in inflation. As such, we expect any rate hikes – even if they do happen – to be extremely limited: perhaps two or three over 2023-24. This is much sooner than we had previously thought, when the Fed announced its new framework in September, and this reflects the significant change in the macro scenario brought about by the Democrat election wins. But it would be a much slower and more shallow hiking cycle than we have seen previously. We will communicate further details of our new macro scenario when we publish our 2021 US Outlook next week. (Bill Diviney)